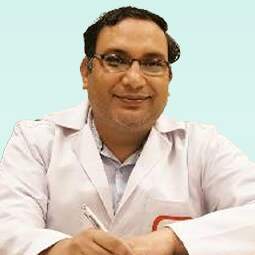 Personal Details
Doctor Name
Amar Kumar
Primary Specialty
Orthopedic
Experience
13+ Years
Education & Hospital
Medical Education
MS - Orthopedics
Area of Expertise
Knee Replacement, Hip Replacement Surgery
PCL Reconstruction, Meniscal Repair, Acromioplasty
Hospital
Grecian Super Speciality Hospital, Mohali
Dr Amar specializes in the diagnosis, treatment, and management of conditions related to the musculoskeletal system, which includes bones, joints, muscles, tendons, ligaments, and nerves. They are trained to diagnose and treat musculoskeletal injuries, diseases, and conditions, such as arthritis, osteoporosis, fractures, sprains and strains, back pain, and sports injuries, among others.
Dr Amar also be involved in research and teaching positions. They must be able to work collaboratively with other medical professionals, such as primary care physicians and other specialists, to provide comprehensive care to their patients.
Doctors Achievements
* Member - Indian Medical Association