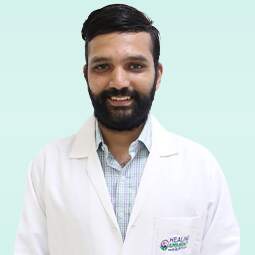 Personal Details
Doctor Name
Lovkesh Mittal
Primary Specialty
ENT Specialist
Experience
10+ Years
Education & Hospital
Medical Education
MS- ENT, Head & Neck Surgery
Area of Expertise
Consultant ENT, Head & Neck Surgery
Hospital
Healing Hospital, Chandigarh
Dr. Lovkesh Mittal is a Senior Consultant ENT, Head & Neck Surgery at Healing Hospital, Chandigarh with 10 + Years of experience. He has done his MBBS from prestigious DYPMC, Pune, Maharashtra& has earned his MS- ENT, Head & Neck Surgery from Government Medical College & Hospital (GMCH), Sector -32, Chandigarh. His diligent and skilled work has earned immense reputation and recognition as a snoring, sleep apnea & sinus specialist. He is highly skilled to perform complex procedures including Functional Endoscopic Sinus Surgery, Bloodless- Coblation assisted tonsillectomies, adenoidectomies, Uvulo-palato-pharyngoplasties, Microscopic Ear Surgeries, Scarless Thyroid surgeries and Microscopic voice surgeries.
Along with being an ENT specialist, Dr. Lovkesh Mittal is also a successful sleep specialist. He has till date evaluated more than 2000 sleep studies, and helped more than 120 patients in removing CPAP machine.He is medically and surgically very sound and believes in ethical work with up to the mark treatment for his patients. He makes sure that his patients are fully aware of the treatments meted out to them and goes the extra mile in educating them.
Areas of Expertise
Sleep Apnea Specialist
Snoring complete treatment
Eustachian tube dilatation
Sinusitis treatment & Surgery
Tonsillitis Treatment & Surgery
Adenoids treatment & Surgery
Ear Infections, Pain, Discharge Treatment
Microscopic Ear Surgery- Scarless
Scarless Thyroid Surgery
Microscopic Parotid surgeries
Microscopic Submandibular gland surgery
Microscopic voice surgeries
Nasal Endoscopy & Oral Endoscopy
Hearing Test, Impedance Audiometry, OAE, BERA
Speech Therapy & Tongue tie removal
Vertigo management & treatment
Allergic Rhinitis Treatment
Nasal Polyps Treatment
Voice disorders
Hoarseness Treatment
Hearing Aids – Complete range
Nasal Bone Correction- External & Internal
Ear Wax Removal
Oral Ulcers Treatment
Oral & Throat Cancer Surgeries
Tinnitus Specialist
Neck Swelling & Masses Treatment
Experience10+ Years
Membership
Int'l Society of Aesthetic Plastic Surgery (ISAPS)
European Society of Otolaryngology
Association of Otolaryngologists (AOI, Haryana)
Indian Medical association (IMA)
Medical Education
MBBS-DYPMC, PUNE
MS-ENT, Head & Neck Surgery- GMCH-32 Chandigarh