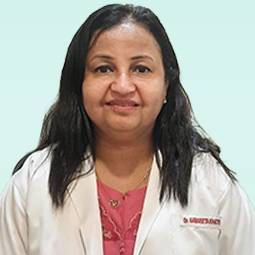 Personal Details
Doctor Name
Sangeeta
Primary Specialty
Experience
8+ Years
Education & Hospital
Medical Education
MBBS, DGO, DNB OBS &GYNAE
Area of Expertise
OBS & GYNAE
Hospital
Dr. Sangeeta is a postgraduate from Maharaja Agrasen Hospital, Punjabi Bagh, New Delhi. She has worked at Max Hospital, Saket. She is a certified Clinical Geneticist and did her three years of super specialization training in Medical Genetics from Sir Ganga Ram Hospital, New Delhi under Dr. I.C. Verma and Dr. Ratna Dua Puri. She is a recognized lecturer for online Genomics courses at the University of South Wales, London.

During her training, she has dealt with a broad spectrum of patients with various Genetic concerns like high-risk dual markers, quadruple markers screen in pregnancy, congenital malformations on ultrasounds, recurrent pregnancy losses, children and adults with chromosomal, syndromic, single gene disorders and various inborn errors of metabolism. She did her thesis work on Outcome of pregnancies with increased nuchal translucency in first trimester. She has publications in International and National Journals of Medical Genetics and Fetal Medicine. She has done National courses in Biochemical Genetics and Molecular Genetics at CDFD, Hyderabad, Population Genetics at NIBMG, Kolkata.
MBBS, DGO, DNB OBS &GYNAE